Description
Call for Pricing Toll Free 877-226-7311

ZOLL AED Plus Package

Promotion – Buy 2 or more Zoll AEDs and receive an additional $50 off each.

This package is an exceptional deal that can provide you with everything you need to stay ready for when emergency strikes. In addition to a brand new AED from ZOLL, you get a number of AED accessories that can make a huge difference in your readiness to respond.

What's Included:

Brand New ZOLL AED Plus (w/AED Cover for Public Safety)
7-Year Manufacturer's Warranty
CPR-D Padz – 1 Set
Duracell Lithium Battery Set (w/sleeve)
ZOLL AED Plus Demo & Set-Up CD
ZOLL AED Plus Operator's Guide
AED Wall Cabinet w/Standard Alarm (HST-CAB02)
AED Projection Wall Sign (3-Way) (HST-WS02)
ZOLL AED Plus Soft Carrying Case
Medical Prescription / Authorization
CPR/AED Rescue Kit (HSRK-10)
Inspection / Maintenance Tag (HST-ACC01)
"AED Equipped Facility" Decal (HST-ACC02)
Free UPS Ground Shipping (lower 48 states only)
Qty 2 – CPR / AED Training Class Vouchers with In-Pulse CPR* (Exclusive – Bonus $130 Value)
*Vouchers ship with MN, PA, & FL orders only.


***

Zoll AEDs have easy voice prompts and are smart
enough to know if you are performing CPR correctly.†

† Zoll AED Plus monitors speed and depth of CPR compression's
in real time and provides feedback.

Zoll's exclusive AED pads make it fool proof as to where
the pads should go on the chest.  Traditional pads can
make you wonder left side?, right side? top? bottom?

Included are vouchers for two students to attend a CPR / AED training
class with In-Pulse CPR.  *Please note that classes are only offered in select
areas in MN, PA, & FL.  There are over 40 class sites available.
No vouchers will be included if product ships outside these three states.

The Zoll AED Plus Package is our best AED option we offer!
---
Upgrades (see dropdown menu above to choose)
Fully Recessed with Alarm Cabinet $89 More.
-Flush Wall Mount
-85 db alarm
-Made in the USA
-JL 1415F12
---
Semi Recessed Alarmed AED Cabinet $159 More.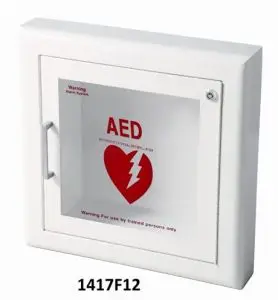 -Partially recessed in wall about 3″
-85 db alarm
-JL 1417F12
---
Outdoor Alarmed and strobe Cabinet $249.00 More.
-Water resistant
-Gasket fitted door
-85 db alarm
-Surface mounted
-JL-1463F12SA-913-EXT