Bloodborne Pathogens Certification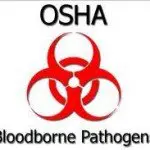 OSHA mandated Bloodborne Pathogens Training is for any person who may be "reasonably anticipated" to face contact with blood and other potentially infectious materials as a result of performing their job duties.
Our Bloodborne Pathogen Training complies with annual training requirements (OSHA 1910.1030), and teaches all employees common sense guidelines to protect themselves from the serious threat of bloodborne disease in the workplace.
Our instructors would be happy to offer a private, on-site training for your staff. This 1 hour training is usually taught alongside CPR certification and first aid course, and can be scheduled Monday through Friday at a time that is convenient to you.  Currently, we do not offer any public BBP trainings.
The Bloodborne Pathogen Training is designed for anyone with a reasonable chance of coming into contact with bloodborne pathogens such as:
• Correctional officers
• Childcare workers
• Security guards
• Maintenance workers
• School personnel
• Hotel housekeepers
• Health and fitness club staff
• Tattoo artists
• Warehouse staff
• Appointed 'first responders' in your workplace
In-Pulse CPR provides private, corporate, non-profit and custom group training for groups of 5 or more or, alternately, you can register for our standard public classes and trainings offered in multiple states, locations and times for your convenience.