The Life-Saving Importance of AEDs in the Workplace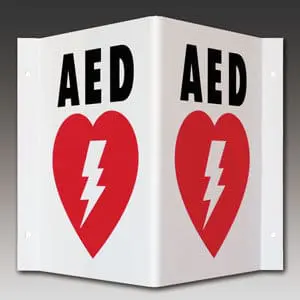 If you work a standard 40+ hour week, you likely spend more of your waking hours at your workplace than you do at home. Your job gives you a way to provide for your family, and you develop close relationships with your co-workers and customers over time. At In-Pulse CPR, we are committed to empowering clients and reducing preventable fatalities. That is one of the reasons why we believe automated external defibrillators, or AEDs, should be present in as many workplaces as possible.
What Are AEDs?
Before we explain why an AED would benefit your workplace, it's important to understand what an AED actually is. An automated external defibrillator is a portable medical device that has the capability to check the heart's current rhythm and send an electric shock to the heart if necessary. The purpose of the shock is to restore a healthy rhythm to the heart.
AEDs are proven to improve survival rates in patients that experience sudden cardiac arrest. Although these important machines are powerful, they are also lightweight, battery-operated, and very simple to use.
AED Statistics
The damage caused by a heart attack can onset after as little as three minutes, decreasing the likelihood of survival by as much as 10% for every minute past three. This includes irreversible brain damage and even death. This statistics are sobering, but how likely is it that a person experiencing cardiac arrest would benefit from emergency care from a colleague? Research shows that this is more common than you might think.
The average response time for EMS services is about 10-15 minutes, which is long enough to reduce the chance of survival to under 30%. Conversely, studies have shown that a sixth grade student, when properly trained, can operate an AED efficiently in under 90 seconds. These precious minutes can make a world of difference to a person in cardiac arrest and help bridge the treatment gap between incident and professional care.
Workplace Safety
If you feel intimidated by the thought of using an AED to shock another person, you are not alone. This is one of the reasons why knowledge is power. AEDs are designed for use by a layperson and require minimal training. These devices usually contain spoken prompts for use, guiding the user step by step through the process. Some models contain an "event memory" which records important information and ECG data that the emergency team can use to understand what treatment the patient has received. These advantages, when coupled with the professional care from an EMS team, can mean the difference between life and death.
If there is already an AED present in your workplace, it's vital that all of your staff members know where it is located and how to use it. All CPR classes taught by In-Pulse CPR professionals include an AED component. Although the devices themselves are not difficult to use, completing training and having the chance to get answers to your questions helps you react with confidence when you have the opportunity to help a colleague or customer at your workplace.
Why not schedule a CPR and AED training course at your office today?